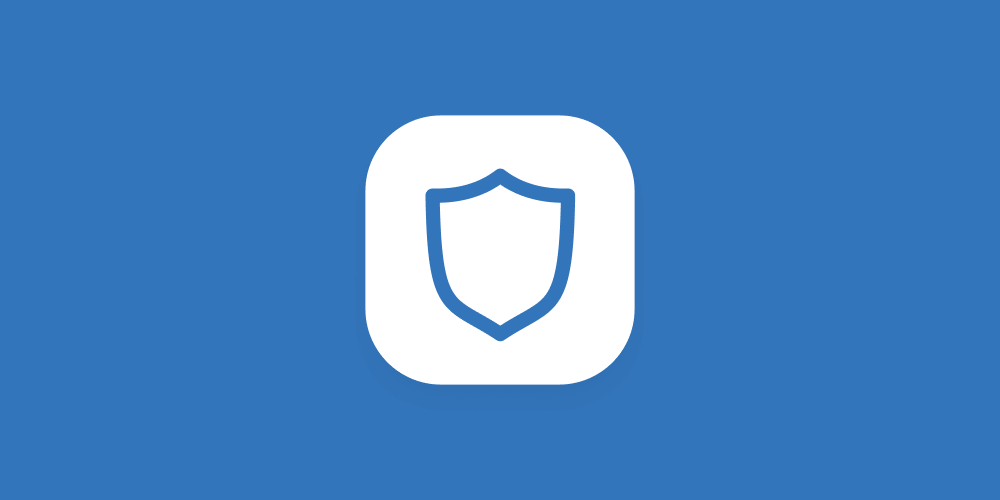 Today, in this Trust Wallet Review, we will discuss about one of the most well-known and famous software wallet alternatives. We'll go through the specifications, see what it can accomplish, and consider the benefits and downsides. By the conclusion, you should have a decent notion about whether or not this mobile wallet is a suitable fit for you.
Because of previous hacks and breaches, most cryptocurrency exchanges have strengthened their security processes to protect their clients' cash and other information. Regardless of these safeguards, it is always a good idea to keep your crypto assets in a reputable wallet, whether hardware or software.
About Trust Wallet
Trust Wallet is a digital cryptocurrency wallet that supports more than 160 digital assets and allows users to invest their coins for interest. It also features a Web3 browser, which lets users to access Ethereum-based decentralized apps (DApps).
The Trust wallet is a mobile wallet that is compatible with both Android and iOS devices. Viktor Radchenko, the wallet's creator, desired a wallet that might easily manage ERC20 token exchanges. To a significant measure, he has succeeded in this.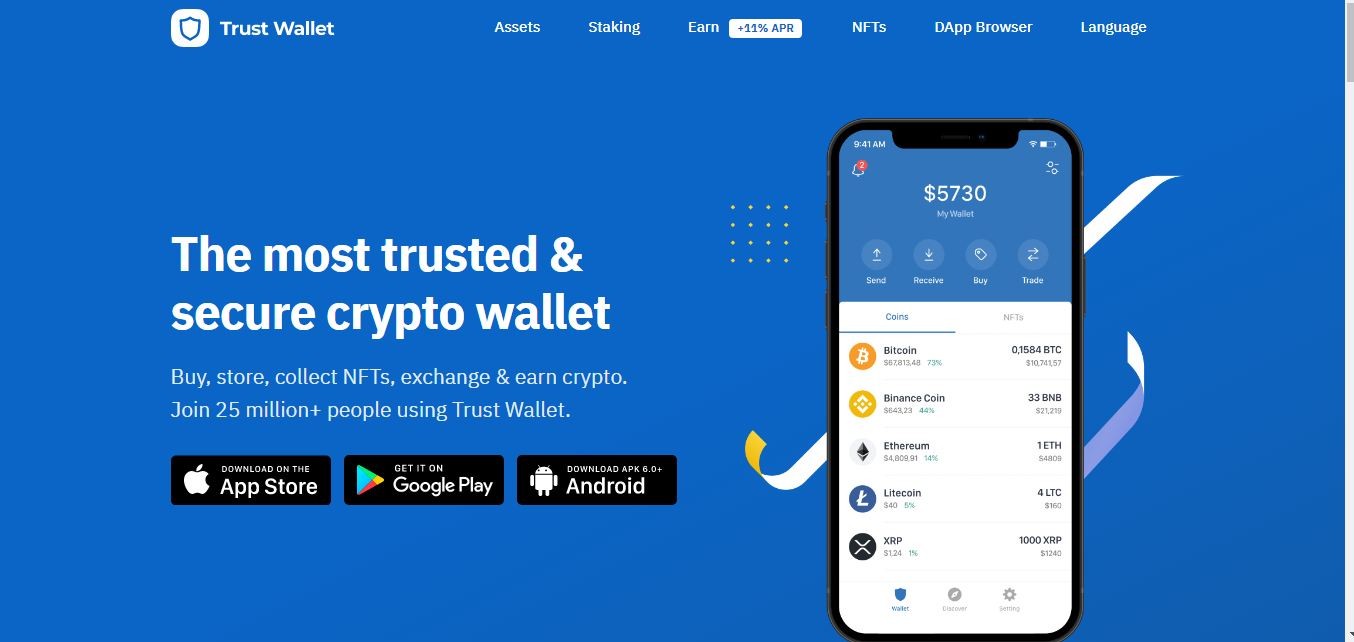 The Trust Wallet software allows you to exchange numerous cryptocurrencies in a secure manner. It essentially provides you with a secured access key that protects your crypto assets from illegal access. It also enables multi-coin transactions, enabling you to buy and trade thousands of currencies and blockchain kinds; coins may even be purchased with a credit card.
Another essential feature of Trust Wallet is its emphasis on customer privacy and security. When opening a new account, no KYC is required. Furthermore, being a non-custodial wallet, it hardly store any user data. Users can also maintain their private keys locally their devices instead of on Trust Wallet's servers. Also Read: Best Loopring Wallets
Quick Summary
Trust Wallet is a well-known software wallet. In June 2018, Binance bought Trust Wallet. Allows for the trade of a wide variety of cryptocurrencies. Provides a variety of crypto assets for staking. Trust Wallet does not charge its users any setup costs or membership fees. There are about 5 million active users worldwide.
Background
Trust Wallet is the idea of Viktor Radchenko, a Ukrainian software engineer living in the United States who initially learned about crypto in the same manner that many of us did: through usage of Bitcoin on the deep web.
However, it was via Ethereum that his interest in cryptocurrency began to grow. He cut his teeth and tried hard designing an app to assist truckers in finding parking and other facilities while also plunging deeper into the crypto seas.
Viktor started developing Trust Wallet to store the increasing number of ERC20 tokens he was acquiring through ICOs. Work on the project began in 2017, and it rapidly became the focal point of all his efforts.
Trust Wallet Key Features
Trust Wallet comes up with a variety of features that makes the wallet greater. Some of the most key features of Trust Wallet are as follows:
1. User Interface
Trust Wallets has an easy to use interface which makes it more popular among crypto traders. This functionality makes it simple to download, and begin using the software. Trust wallet has grown over 5 million users over the years, due in major part to its continuous relationship with Binance.
2. Free to Use
There are no hidden fees or subscription services. However, the only charges that arise are payment processing charges. Technically, though, they are not as much as you think.
3. Security
Though Trust Wallet cannot guarantee security measures as robust as hardware wallets, the platform strives to ensure that the funds of its clients are secure. It has frequent audits performed by the premier security firm Stateful.
4. Easy Backup
Trust Wallet solves the backup problem that most wallets have by including a 12-word recovery phrase when users set up the wallet on their mobile devices. Users must write down these words and preserve them somewhere secure so that they may be used to retrieve and reclaim access to the wallet if something goes wrong.
5. No KYC Requirement
Trust Wallet does not request any KYC compliances from its customers when they create an account just on Trust Mobile wallet since it is a non-custodial official crypto wallet software which does not keep any user data on its own server.
6. Multi Coin Support
The ability to handle different cryptocurrency tokens is, in our opinion, Trust Wallet's most fantastic feature. The programme has a multi coin wallet and supports over a million assets.
Trust Wallet Pros and Cons
Pros of Trust Wallet
Simple and free to download.
Stores a wide variety of cryptocurrencies.
Allows for the staking and earning of rewards on numerous digital assets stored.
Users maintain control over their private keys; private keys are not kept on the wallet's servers.
Compatible with both iOS and Android smartphones.
Cons of Trust Wallet
Not Secure as much as Hardware wallet.
If your private keys are lost, there is no way to reinstate your account.
Trust Wallet Security
Trust Wallet, as a software wallet that sits on your mobile device, provides a high level of privacy and security.
To begin, there is no Know-Your-Customer (KYC) necessary to use the wallet, which means you do not need to provide your identity credentials or other personal data with the organization, allowing you to stay anonymous.
Second, no sensitive information or private keys are saved on Trust Wallet's servers, providing an additional degree of security against hacking and snooping, because no data equals no data breach. Also Read: Best Kusama Wallets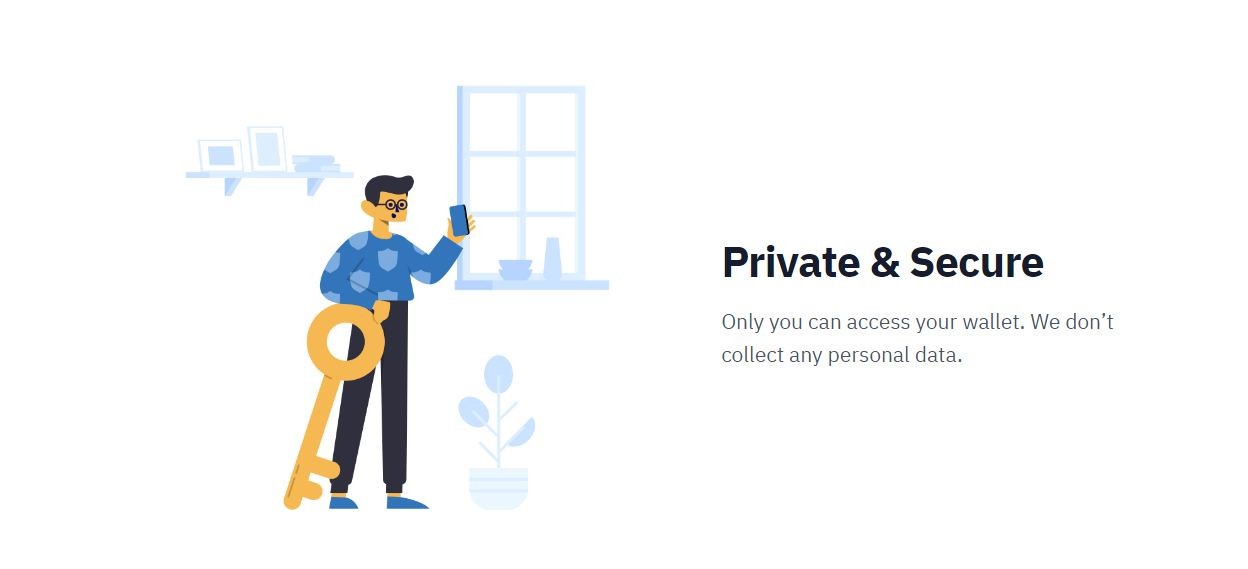 In the past, Trust Wallet has suffered no exploits. Moreover, there have been no reports of funds stolen by hackers from the community. It is also important to note that users have the ability to secure funds, in the case that their devices are stolen, by locking their wallets with a secret pin code or enabling fingerprint scanning. Trust Wallet is a high-quality wallet that is both safe and secure. There has been no reported case of a hack as of the date of writing this review.
The wallet's key security features are as follows.
The Private Key is kept locally. Instead of storing your private key on Trust Wallet's servers, you get to keep the key on your smartphone.
Back up seed phrase
Face ID and Touch ID for further security
How to create Wallet on Trust Wallet?
Creating a Wallet on Trust Wallet is easy and straightforward. To create a Wallet just follow these steps:
Step1: To get started, download the latest version of Trust Wallet from your Google Play store or App Store.
Step 2: After downloading, open the Trust Wallet app to create a Wallet.
Step 3: The next step is to obtain your 12-word recovery phrase, which will serve as a backup for your funds.
Step 4: Before you complete constructing the wallet, double-check that you typed down the 12-word phrase in the right sequence.
And that's it you're done.
Trust Wallet Charges and Fees
Trust Wallet is now free to use and will likely stay so for the foreseeable future. However, when doing transactions, you should keep an eye out for network costs, which might become outrageously exorbitant in some situations. These costs are not imposed by Trust Wallet; rather, they are set by the different blockchains.
Bridging to various blockchains can help you avoid excessive fees, but doing it successfully requires considerable expertise and experience. Also Read: Best Algorand Wallets
Supported Cryptocurrencies
All ERC20 and ERC223 coins are supported by the Trust Wallet. You will be able to store Binance Coin (BNB), VeChain (VEN), and other cryptocurrencies in your wallet. In other words, outside of the Ethereum wallet, Trust wallet does not support BTC, BCH, or other currencies. If you want to store these digital assets, this may be a major deterrent.
Is Trust Wallet Safe?
The wallet does not save any user information. The wallet also does not employ any KYC requirements, thus you will not be required to provide any personal information while using the software.
If you do not save a duplicate of your private information, Trust Wallet will be unable to assist you if you lose your private key or seed phrase.
This is exacerbated by the fact that Trust Wallet runs entirely through your mobile device, thus losing your smartphone would cause further complications because you won't be able to access your wallet via desktop or other ways. The bottom conclusion is that if you lose your phone and/or seed phrase, you will lose access to your cash.
Conclusion
Trust Wallet is not your typical cryptocurrency wallet. Apart from normal storage services, the programme also performs an excellent job of keeping up with the current developments in the bitcoin market, resulting in a flexible and feature-rich solution.
Trust Wallet excels in enabling its users to connect with the diversified crypto market without ever having to close the app, thanks to comprehensive dApp compatibility and significant blockchain coverage.
Even if the user does not have any crypto, they may buy them immediately through the wallet. When combined with the above listed criteria, it is simple to see why Trust Wallet is expected to be one of the most popular crypto wallets in 2021.