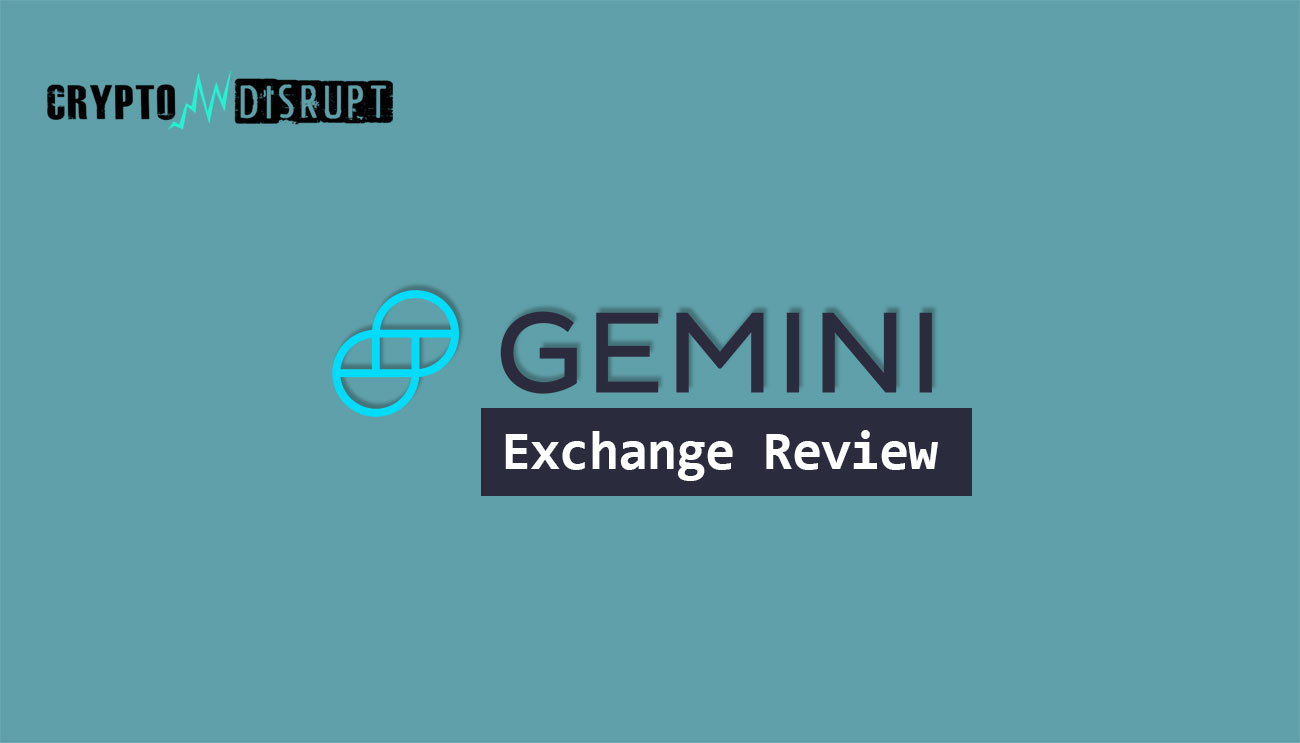 By the bottom of this Gemini exchange review, you must be able to identify whether Gemini is the proper cryptocurrency exchange for you, as well as how to register and verify an account with the Gemini cryptocurrency exchanges.
If you want to start selling and purchasing Bitcoin but don't know where to begin, our Gemini exchange review will help you make a decision.
There are several virtual currency exchanges, each with its own set of perks and cons. Some provide a wide range of currencies yet have poor security. Others, on the other hand, provide only a few digital assets but have excellent security measures.
There is a lot to cover in order to offer you a thorough grasp of this well-known and reputable exchange. So, in our Gemini exchange review, let's examine what Gemini has to offer its consumers.
Quick Summary
There are almost 70 cryptocurrencies accessible.
Trading costs include a spread and a charge per transaction. There is no account minimum.
The minimum trade amount is the least quantity of each cryptocurrency that may be exchanged.
Gemini Earn is a service that allows you to earn interest on your investments.
Accessible in over 60 countries and all 50 states of the United States.
The majority of assets are stored in offline cold storage, as is the insurance plan.
What is Gemini?
Gemini debuted in 2015 as a cryptocurrency trading platform that appealed to both novice investors and aggressive traders, offering a variety of alternatives for buying and selling cryptocurrencies.
It doesn't have the trading volume of rivals like Coinbase— you may have only known of Gemini for its creators, Tyler and Cameron Winklevoss, who are well-known for their court fights with Mark Zuckerberg over the birth of Facebook. However, the exchange provides over 70 coins, a learning Centre to educate newcomers all they need to know about crypto trading, and a suite of innovative goods that may provide value for seasoned investors.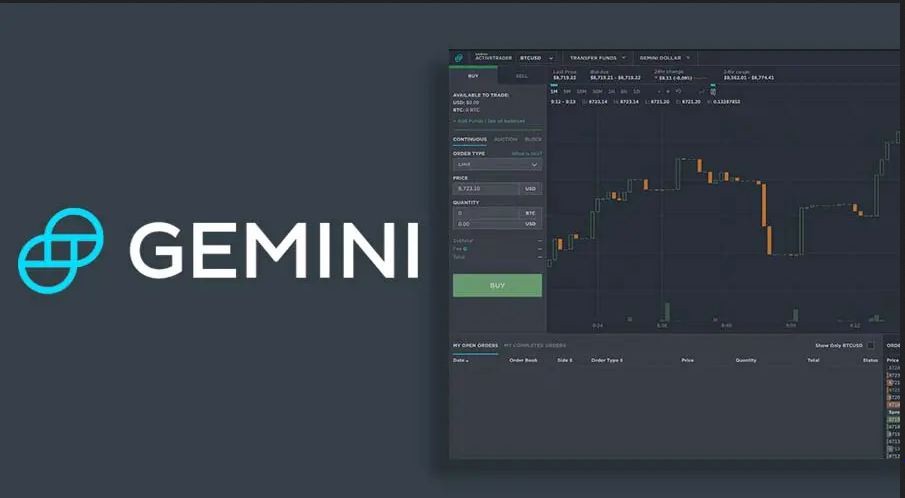 The Gemini exchange is headquartered in New York. It has swiftly established itself as one of the most reputable cryptocurrency exchanges in the digital currency market. In 2016, it also became the world's first licensed Ether exchange.
Gemini Exchange Pros and Cons
Pros
It provides a wide range of cryptocurrencies.
Minimum purchase amounts are quite low.
Digital assets are protected by insurance.
Provides crypto-to-crypto trading for certain currencies.
Gemini Pay offers bitcoin purchases at 30,000 shops.
Cons
The fees are rather hefty.
For newcomers, the cost structure is tough to comprehend.
Short selling and margin selling are not available.
Gemini Security Features
Gemini provides industry-standard security features like as two-factor verification, wallet address keyword filtering, and the ability to verify and authorize login devices. Users must also fulfill the system's know-your-customer (KYC) verification procedure, which includes uploading a government-issued picture ID, in order to access the platform's full range of trading tools. This procedure is intended to limit the number of occurrences of scam on Gemini.
Gemini provides protection on any digital assets stored in their Gemini Wallet and will pay consumers for any ensuing security flaw or hack, illegal transfer, or staff theft. Customers can be certain that their digital assets, especially those that are regularly traded, remain secure with Gemini.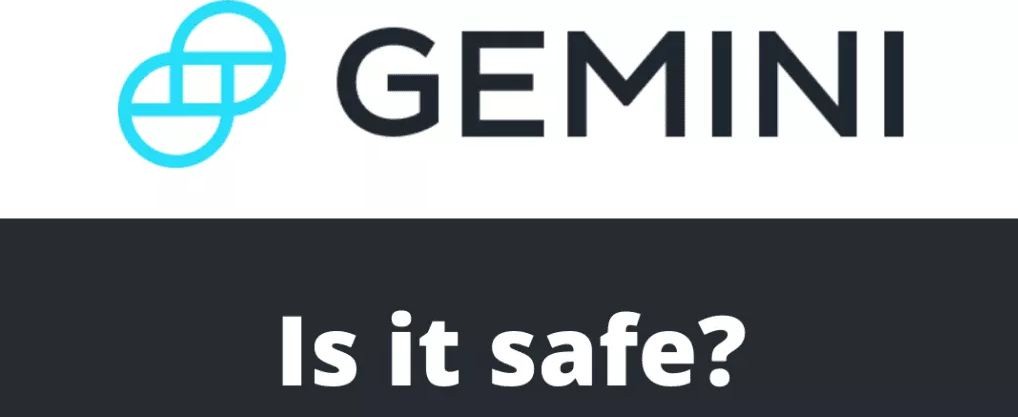 The exchange lets you see all of the gadgets that have connected your accounts and block any that you don't recognize. You may even log out of any device that is currently signed into your Gemini account. Gemini provides two-factor authentication through SMS or the Authy app.
Gemini lets you to assign several user roles to your account, limiting access and trading privileges for specific individuals. This is an excellent choice for institutional investors that have a staff in charge of managing their bitcoin assets.
Gemini Exchange Features
User Interface
Gemini's interface is designed to be user-friendly. Gemini will be simple to use for newcomers to the cryptocurrency market, and transactions across cryptocurrencies will be possible with a few clicks.
Advance Security
Only a small portion of the Bitcoin stored by Gemini is held online. Most are kept offline in order to limit possible damages from hackers. This does not imply that you should keep your Bitcoin on Gemini indefinitely.
Insurance in Hot Wallet
Gemini's hot wallet comes with digital asset insurance. In the case of a security breach or compromise, user funds held in the wallet are protected.
Available in U.S States
Several cryptocurrency exchanges, particularly those that pay interest on crypto deposits, are unable to provide their services in every state in the United States. Gemini's dedication to compliance allows them to operate across the country.
Active Trader
Gemini's Active Trader facilities, which will help investors to fully utilize the crypto exchange, will be more valuable to seasoned crypto traders as well.
Mobile App
Gemini also provides a free mobile app for both iOS and Android. Both versions are well-liked by mobile users, who can use it to access some of the similar features and functionalities available on the desktop variant.
My Portfolio
It helps to manage control of your account, monitor your amount, and get fact that there is usually and percent changes all in the same spot with a single glance.
Gemini Supported Currencies
While Gemini has fewer cryptos than other big exchanges, it nevertheless has about 100 assets on its platform. Users have the ability to purchase, sell, and exchange some of the most popular coins and some fewer currencies. Here is a brief list of the cryptocurrencies that are now accessible on Gemini:
Bitcoin (BTC)
Ethereum (ETH)
USD Coin (USDC)
Terra (LUNA)
Dogecoin (DOGE)
Uniswap (UNI)
Gemini Dollar (GUSD)
Solana (SOL)
Cardano (ADA)
Fees Structure
Gemini's cost structure differs from that of many other exchanges, which typically employ a tiered maker/taker charge scheme. Its costs vary based on the amount traded and the platform used. Gemini, for example, offers a mobile fee structure as well as a desktop fee schedule.
Fees for trades higher than $50 but less than $200 might be as high as $2.99, or as low as 1.49 percent for exchanges of $200 or more.
While this exchange's costs are straightforward, its fundamental fee structure is significantly more convoluted than those of some other exchanges. Its fees are likewise slightly higher than those of several industry competitors.
How to create account on Gemini?
First, go to Gemini.com. At the top of the page, click "register."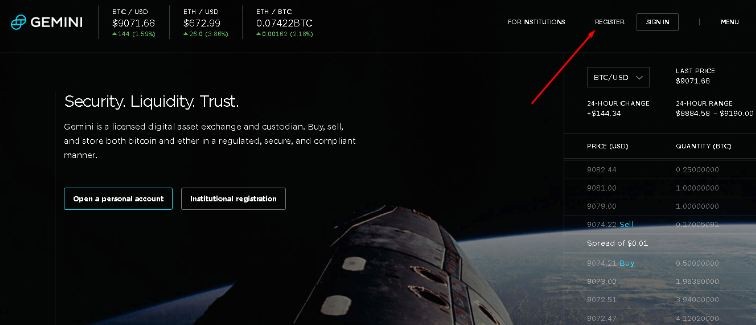 Fill in the blanks on the next page. Your full name, email address, and a password will be included. Check the box above the "create my account" link if you agree with the conditions in these papers. Then select the "create my account" option.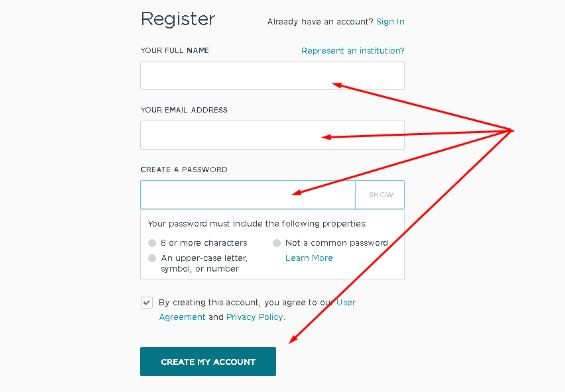 On the following screen, enter your phone number. A code will be given to your phone. This must be entered in the appropriate box.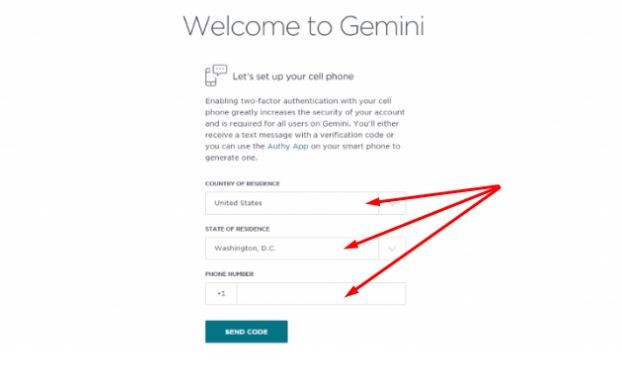 The following step is to connect your bank account to your Gemini exchange account. Simply fill in the blanks with the answers to the questions as they appear.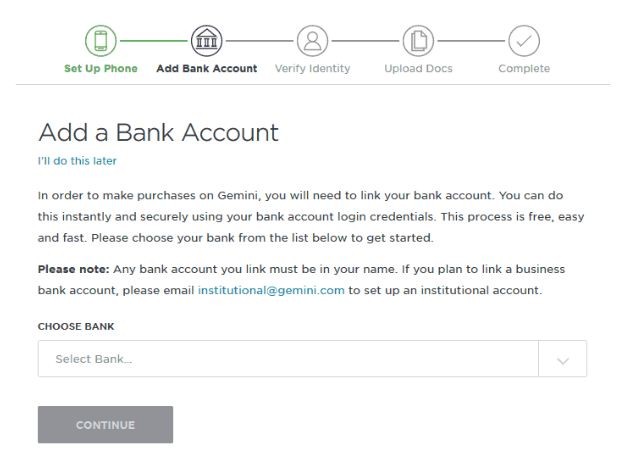 After you've added your bank account, you'll need to confirm your identification. This necessitates the submission of several sorts of documents.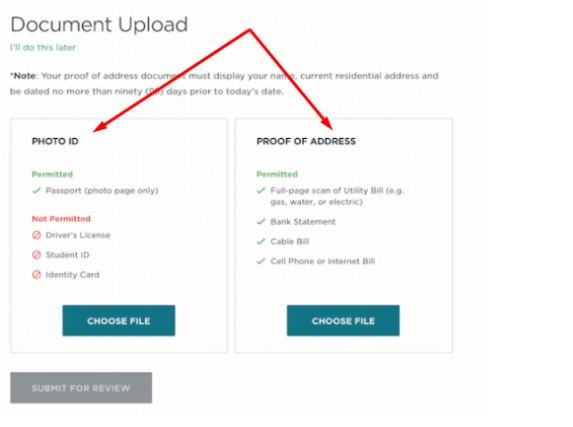 New clients must provide Gemini with a picture ID as well as proof of address. It will take between one and three days to properly verify your account. While you wait, some functions will be available.
Customer Service
Gemini has a comprehensive help section where users may get solutions to frequently asked questions. It also includes a virtual Chabot and the opportunity to send a support request for human assistance. Gemini, like many other cryptocurrency exchanges, does not provide live phone service to individual consumers.
Gemini Wallet and Gemini Custody
Gemini provides two wallets: Gemini Custody, a cold storage solution, and Gemini Wallet, an insured hot wallet. Gemini Custody, which pulls your cryptocurrency off the network for safekeeping by Gemini, levies a 0.4 percent annual fee. Gemini Wallet provides online high-security storage as well as digital asset theft insurance.
Is Gemini Exchange Safe?
Gemini trading is risk-free. The platform is well-known for its security and simplicity of usage. It works from the start with a security-first mindset.
Conclusion
Gemini is a highly secure cryptocurrency trading platform that allows users to buy, sell, and store bitcoin. According to the exchange's website, it is an attractive and simple-to-use trading platform. Gemini Pay and Gemini Earn are two of its standout features.
It employs built-in capabilities like as multi-signature digitally signed methods and hardware encryption keys, as well as other protocols, to safeguard clients' accounts. Overall, it's difficult to find another well exchange than Gemini.