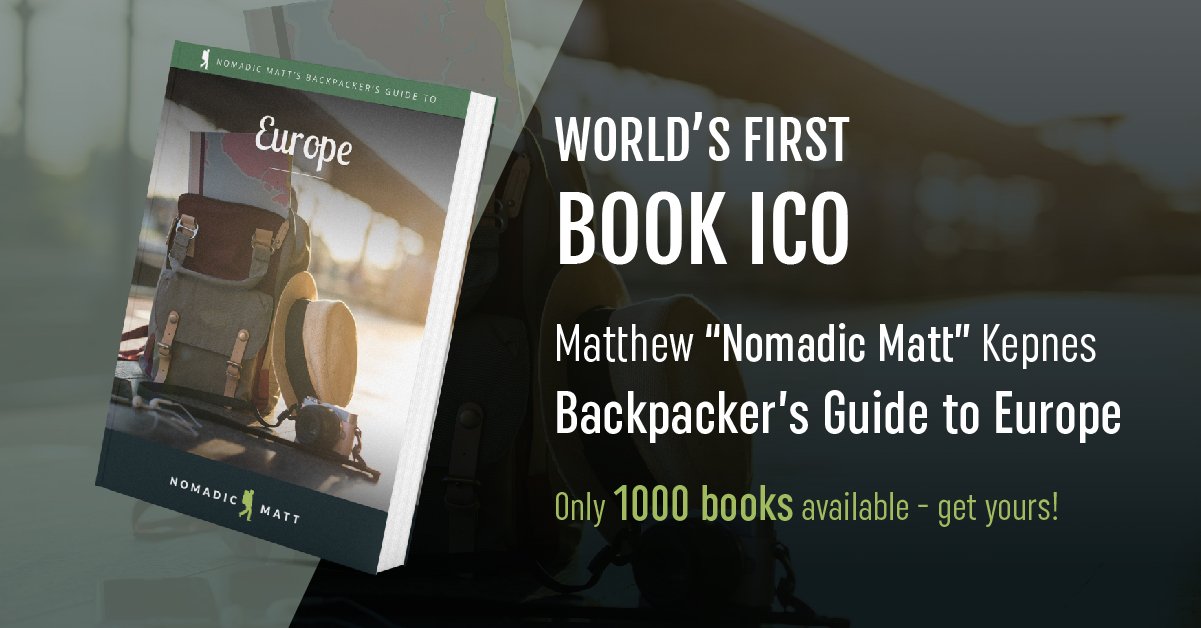 Crypto Disrupt posted an article in May 2018 to announce the name of the first author to publish a book via an ICO. Publica confirmed the first book ICO would be launched by travel writer, Matthew Kepnes. Social media channels used by the author know him as Nomadic Matt. Publica followed up on Twitter June 6, 2018, with the news that the ICO was up and running.
History's FIRST BOOK ICO is LIVE! 🎆

Only 1000 BOOK Tokens of Matthew @nomadicmatt Kepnes' "Backpacker's Guide to Europe" are available! 📖https://t.co/RFAJORtNgU

Get your Book Token while you can❗️#Eth #BlockchainTechnology #BlockchainNews #CryptocurrencyNews #BookICO pic.twitter.com/2OWZJt14XS

— Publica (@Publica) June 6, 2018
A hard cap of just $10,000 has been set for the ICO which runs until June 20, 2018. This represents 1000 books at $10 each. With 11 days of the ICO remaining, 10% of the books have been ordered. Nomadic Matt is an accomplished travel writer with many of his books being sold by publishing giant Amazon. There is no indication that his new book, "Backpacker's Guide to Europe" is exclusive to Publica. The author also has the right to increase the 1000 books available via Publica in a follow-up ICO.
On Amazon, the author's books usually cost between $7 and $13.  As such, this Book ICO is not providing readers with a cheaper book via Publica. The main benefit for the book ICO investors is that the cryptographic token they receive to read the book on Publica's e-reader is fully transferable. This represents a unique way of distributing e-books. An e-reader is available for Android and iOS with a crypto wallet being built into the app.
Only the Android app allows readers to invest directly in the ICO. iOS users are required to pair a web-based wallet, like Metamask, to the app due to a restriction imposed by Apple regarding the use of cryptocurrencies.
Investing in the Book ICO
One of our writers bought into the book ICO, and we can confirm it was quite straightforward for an experienced cryptocurrency trader. Unfortunately, the process is still quite daunting for individuals new to cryptocurrencies. Publica is currently producing a webinar for these individuals. Once this becomes available, anyone should be able to purchase a book via the ICO. Purchasers will be able to sell the book token once they have read the book. Alternatively, they might want to send the token to friends and family as a gift.