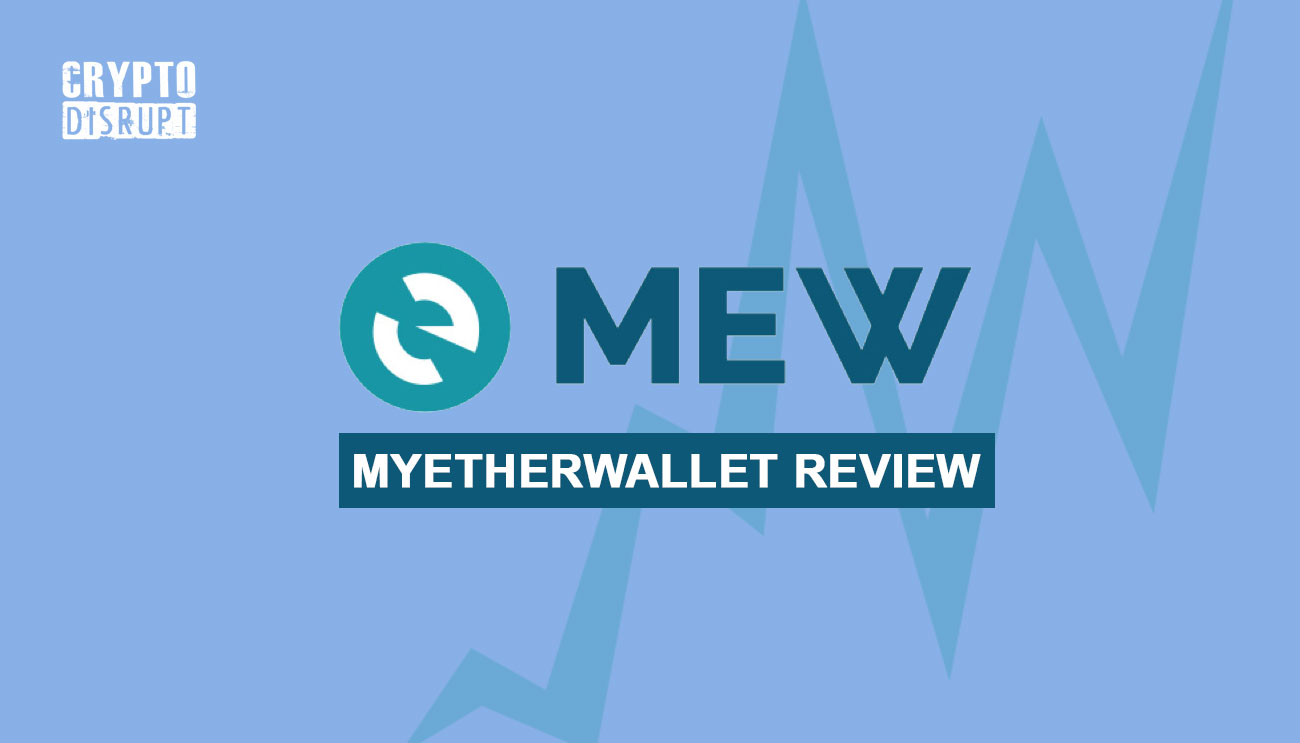 In this MyEtherWallet Review 2023, we will go over all of the crucial data about the site, such as how it operates, additional features, advantages and downsides, and so on. A cryptocurrency wallet is a software that enables cryptocurrency consumers to keep and recover their virtual currency holdings till they are ready for release to the market. Most cryptocurrency exchanges provide standard cryptocurrency wallets, which traders may download immediately from the exchange's webpage.
But what if you could design your personal cryptocurrency wallets rather than installing one from the website of a crypto exchange? MyEtherWallet offers precisely that; it has something quite unique to offer cryptocurrency consumers. It is an open-source, free site that allows cryptocurrency users to establish new Ethereum blockchain wallets.
What is MyEtherWallet?
MyEtherWallet is an internet Ethereum and ERC20 tokens wallet that allows you to connect to the Ethereum platform directly. This open-source wallet allows users to keep their private keys, which adds an extra degree of protection above other web-based wallets. It also has a large community backing it up, developer assistance, and confidence.
The wallet supports Ether, the Ethereum blockchain's native currency, as well as all other tokens generated using the ERC20 standard. MyEtherWallet has become a speedier option to other multi-currency wallets due to its concentration on one blockchain and the large number of coins it supports.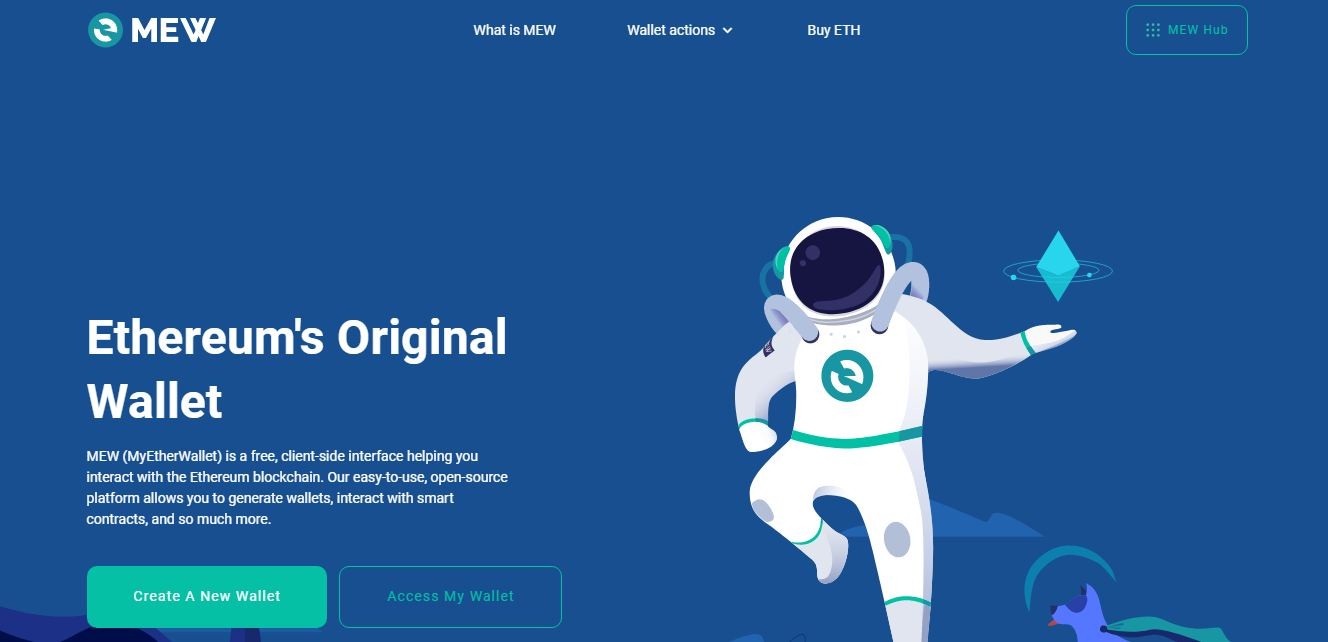 Aside from its efficiency and safety systems, the wallet has a distinctive and innovative user interface that makes it simple to transfer and receive tokens, exchange tokens, and even link it with hardware wallets such as the Ledger Nano S.
Quick Summary
Ether and Ether-related cryptocurrencies have their own site.
MyEtherWallet servers do not store money or private data.
Free open-source site.
Users can establish their own personal wallet.
Paper Wallet – Users must keep their private keys and are completely responsible for their security.
MyEtherWallet Features
MyEtherWallet offers these key services to its clients, making it a popular choice for both novice and experienced traders: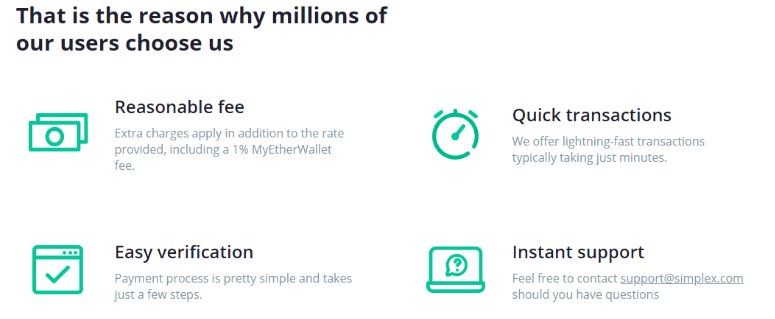 Security
In terms of MyEtherWallet security, MEW produces a one-of-a-kind private key for your linked, compatible wallet that no one online can access. Because it supports cold storage and offline transactions, it is a very safe alternative for Ethereum investors.
Fees
Because the MyEtherWallet interface is merely a gateway to the Ethereum blockchain and not a standalone crypto wallet, it is not required to charge MyEtherWallet fees to its customers. The site is completely open-source and free to use.
Variety of Coins
At the time of writing, the MyEtherWallet interface supported Ethereum, Ethereum Classic, and additional Ethereum (ERC-20) coins. If you want to swap Ether for other cryptocurrencies like Bitcoin, you must do it through an authorized cryptocurrency exchange. There are no plans to expand the MEW interface's compatibility outside the Ethereum network because it is designed to function only on the Ethereum network.
Desktop and Mobile
Because the MyEtherWallet interface is generally accessed over the internet, it shouldn't matter whatever device you use to access your MEW account as long as it has Wi-Fi or 4G connectivity. Although a test version of an iOS MyEtherWallet app was published earlier this summer, there are no plans to create an official mobile app at this time.
Customer Support
MyEtherWallet's creators maintain a routinely revised Knowledge Base with an expanding library of commonly asked questions (FAQs) spanning from starting up and security procedures to tokens and Gas costs. At the time of this writing this MyEtherWallet review, there really is no live chat option available to users.
MyEtherWallet Pros and Cons
Pros
Allows anyone to utilize Ethereum for the first time.
In-depth instruction on how to use the Ethereum network is included.
com allows users to quickly access decentralised applications.
Within the mobile app, you may buy ETH and trade tokens.
Users may use their Ethereum addresses to sign messages, showing ownership of their currencies.
Cons
The costs for purchasing or trading tokens with MyEtherWallet are relatively expensive.
Some sophisticated security capabilities, such as multi-signature payments and two-factor authentication, are missing.
Supported Cryptocurrencies
Because MyEtherWallet is an Ethereum-focused wallet, all of the tokens accepted are in some way tied to Ethereum. The wallet may hold Ether, ERC-20 tokens, and non-fungible tokens (crypto collectibles). MEW also allows customers to exchange ETH for BTC via their partner service Bity; however, the user must supply a separate wallet in order to get the Bitcoin from the swap.
Pricing and Fees
In terms of pricing, it's worth noting that MyEtherWallet is absolutely free to sign up for and use. When you make a payment to anyone, though, you will be charged a modest fee.
The exact prices vary depending on a few crucial parameters, but based on several user MyEtherWallet reviews, you shouldn't be concerned – the fees are quite tiny in any case.
Is MyEtherWallet Safe?
MyEtherWallet provides its users with a variety of security solutions. The user's account is protected by a private key and a password that are produced automatically when they set up an account. Because the secret key also isn't stored on the MyEtherWallet servers, it is the user's duty to keep it safe.
How to Set up MyEtherWallet?
Let's go over the steps you'll need to do to have your MyEtherWallet up and running:
Step 1
Go to https://www.myetherwallet.com and double-check that the site you're on is legitimate. This is vital to examine because there have been reports of hackers creating equivalent websites in order to obtain users' private keys.

Step 2
To get to this screen, select "New Wallet" from the menu. Once you've arrived to this page, all you have to do is create a pin you'll remember. Then click the "Create New Wallet" button.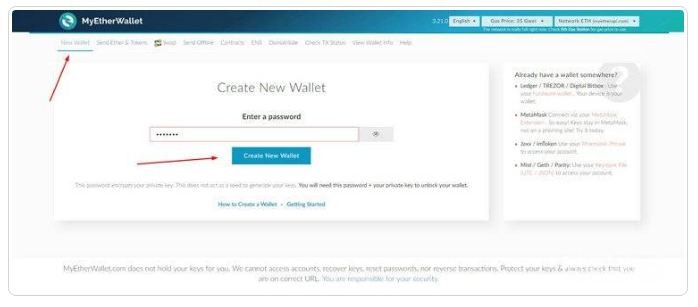 Step 3
MyEtherWallet.com will produce a passcode private key, also known as a "KeyStore" file, after you press the "Create New Wallet" option.
Click the "Get KeyStore File (UTC / JSON)" button on the right to download the KeyStore file. Once downloaded, click the "I understand" button. Continue.".
Step 4
On the following screen, you will be handed the private key to your new MEW. This private key is also used to gain access to your wallet. As a result, you must keep it particularly secure. Remember that anyone who has access to your private key may open your wallet and take your currency.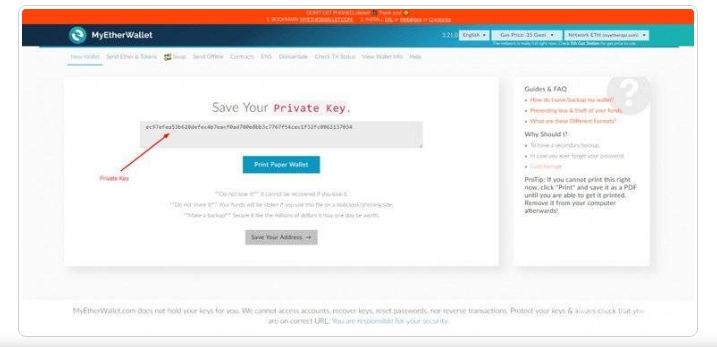 After you've securely stored your private key, you can view your wallet's public address by pressing the "Save Your Address" button.
Step 5
Finally, after clicking the "Save Your Address" button, you will be able to see your public wallet address. "How would you like to access your wallet?" you'll be prompted. In this example, we will use the Keystore file to access the wallet.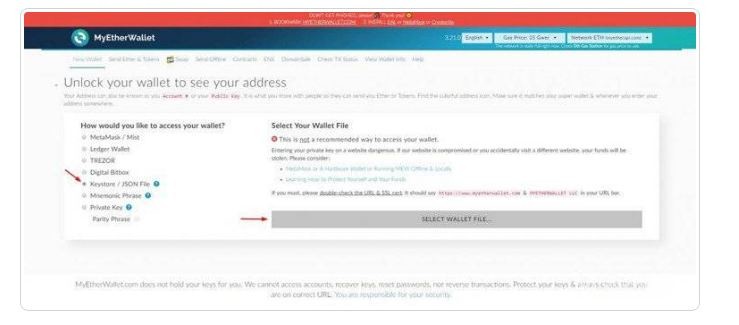 After choosing the 'Keystore / JSON File' option, you will be prompted to "Select wallet file…" When you click the 'Pick wallet file…' button, a box will open allowing you to select the KeyStore file from the directory on your computer where it was saved.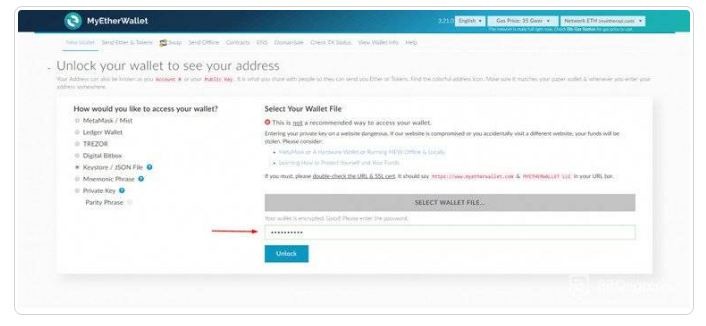 After completing all of the above processes, you will be authorized access to your wallet.
Security
To avoid phishing attempts, the MyEtherWallet staff constantly advises users to be extremely cautious when inputting the portal's protocol, which is 'https://' rather than 'http://'. Many people have been victims of phishing attempts, resulting in the loss of private data and even digital assets just because they typed the incorrect protocol.
Aside from that, MEW maintains private data in cold storage offline (rather than in an online hot wallet), which adds an extra degree of protection to the clients' monies and the Ethereum buyers' personal information.
You are completely anonymous when using MEW. To build a wallet, you do not need to register or provide any personal information.
MEW has had its fair share of phishing assaults and documented occurrences of wallet hacking. However, no transaction details or user cash are stored on the MEW servers. This means that the MEW users are the ones accountable for the money' protection.
MEW also supports a broad range of hardware wallets, making it considerably easier for users to secure their funds from malicious hackers. MyEtherWallet supports certain more hardware wallets in addition to the well-known brands of Ledger and Trezor.
If a user chooses to utilize their mobile device as their primary storage option using the Android or iOS app, their private keys will be encrypted and saved on the device.
Conclusion
And there you have it, a comprehensive MyEtherWallet review. You can now understand why MyEtherWallet is one of the most popular Ethereum wallets. It is extremely simple to use and allows you to store Ethereum as well as ERC-20 tokens, which is essential for ICO investment.
You should be aware of the advantages and disadvantages of MyEtherWallet in comparison to other wallets. Also, to be able to choose which wallet to use. If you decide to utilize MEW, you can rapidly establish your own MEW wallet by following the steps in this article.