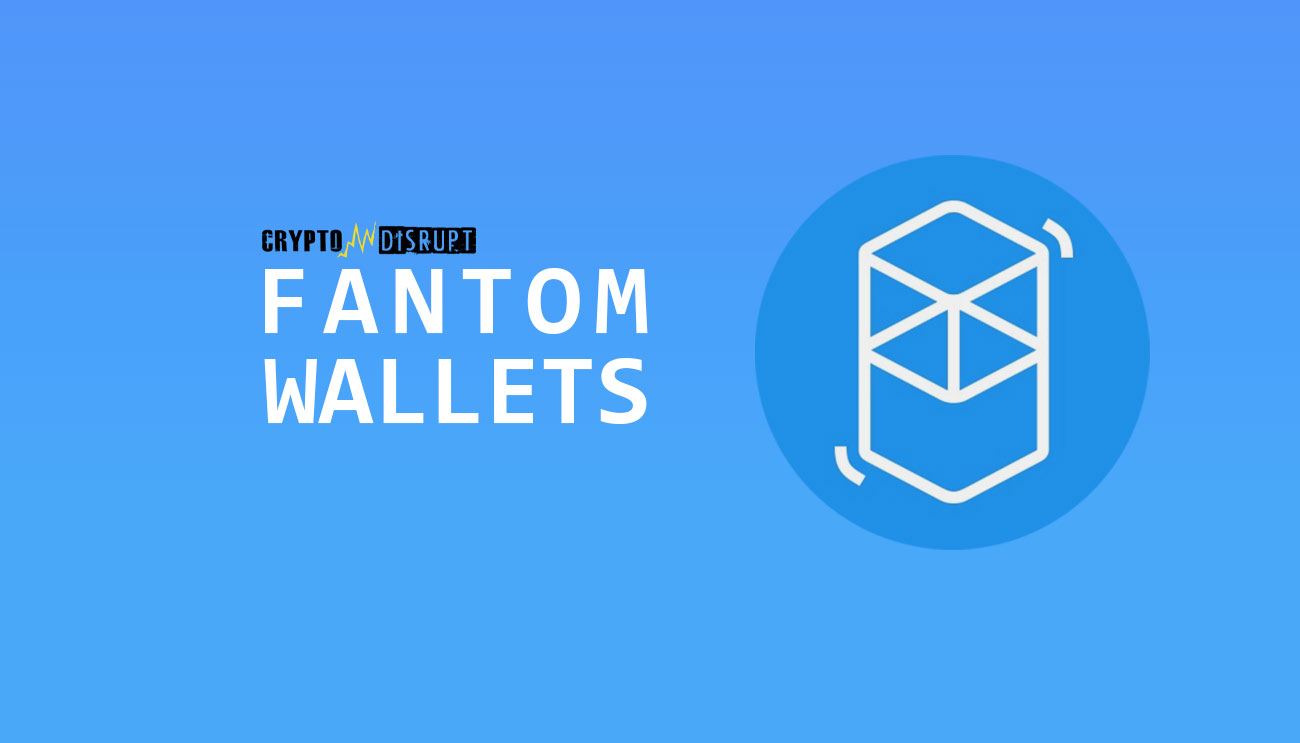 Before you invest a penny in Fantom or other digital cryptocurrency, you should be aware of the risks. Fantom's value might easily quadruple over the next several years, but it could also fall to near zero. Put in just what you can afford to give up because there is a risk you will not receive it back. If you understand the dangers and are ready to proceed, any of these top Best Fantom wallets should protect you.
About Fantom Network?
Fantom is a blockchain that supports smart contracts and is powered by its own FTM coin. Fantom launched its mainnet in December 2019 after raising $40 million. Its blockchain is quick and inexpensive, and it demonstrated in 2021 that it can sustain its own decentralised finance (DeFi) business.
Fantom is a smart contract framework based on DAGs. FTM is the network's native currency. Fantom is an ERC20 currency that operates on the Ethereum blockchain, allowing it to be held on a broad wide variety of wallet. Fantom is a currency as well as a native utility token that powers the Fantom Blockchain, and hence a Mainnet coin as an ERC-20 token again for Ethereum environment and a BEP-20 token for the Binance ecosystem.
In the Fantom network, the FTM token may be used for staking, on-chain governance, and platform fees. We'll go through this in greater depth below.
Top 4 Best Fantom Wallets in 2023
The Fantom blockchain is one of several wallets on the market that allow the creation of EVM blockchain wallets. Let's have a look at some of the best Fantom wallets available in the crypto industry. These are the finest hardware / software wallets for managing FTM coin and tokens, as well as accessing the Fantom Foundations DeFi Platform and all other DApps established on the Fantom system.
MetaMask is a secure web browser cryptocurrency wallet programme for storing, receiving, and transferring cryptocurrencies and assets from Ethereum, Binance Smart Chain, and other blockchains. It also allows you to save any NFT coin art as well as other crypto treasures. It works as a browser extension for Chrome, Firefox, Edge, and Brave.
With MetaMask, security can be a little hard. It should be mentioned that MetaMask is not an Ethereum full node, therefore it is not the ideal wallet to use if you want as much decentralization as possible. In reality, MetaMask does not run any Ether infrastructure that users utilize to gather information about what is going on with the Ethereum blockchain.
To begin transactions with MetaMask, a modest quantity of Ethereum is required. These transaction fees are determined by the network, thus if you use a network other than the Ethereum chain, the fees will be different.
Integrations with hardware wallets such as Trezor and Ledger are another significant feature of MetaMask. Although MetaMask occasionally obtains low security ratings due to the fact that it may be incorporated directly into your internet browser, the idea that your secret keys can be safeguarded by a different piece of equipment is a huge bonus.
Pros
Over 1 million monthly active users make up a sizable user base.
Beginners will have little trouble understanding the user interface.
Access to a range of Ethereum Dapps
Integrations of hardware wallets
Available on mobile devices as well as a browser extension
Cons
This is not a complete Ethereum node.
Infura is the default backend.
In certain regions, there are few choices for acquiring bitcoin through a wallet.
Has previously experienced phishing assaults.
There is no native Bitcoin support.
---
The Ledger Nano X is a hardware wallet produced by the firm Ledger. They also manufacture a comparable but less basic and less expensive model called the Nano S. A hardware wallet stores your cryptocurrency on an offline device that resembles a USB stick.
To transfer or receive cryptocurrency to or from the Ledger wallet, you must verify the transactions on the Nano X device, making it far more secure than other cryptocurrency wallets.
Your private keys are never exposed outside of the Nano X. As a result, even if you connect it to a compromised computer, your secret keys will not be disclosed, and your crypto will stay encrypted.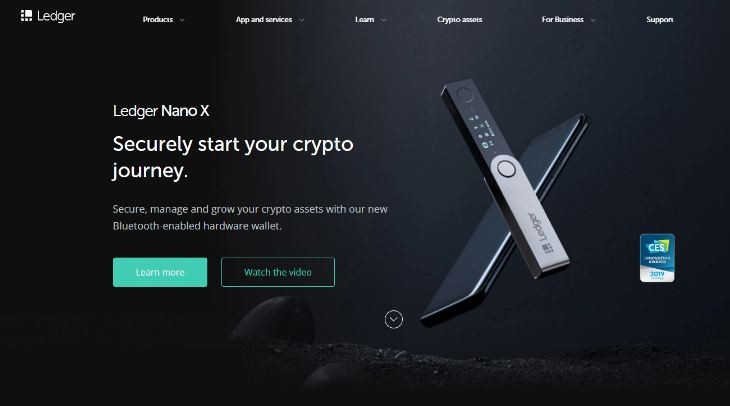 The Nano X has all of the capabilities of its cheaper sister, the Ledger Nano S, but with the added capacity to hold a wider range of assets at once and manage your portfolio on the move by connecting the device through Bluetooth to the smartphone app.
The Nano X boasts a premium-feeling folding aluminum case. Furthermore, the screen is significantly bigger and crisper, making it much simpler to manage applications and view transactions and wallet addresses.
When there are only two buttons accessible, there isn't much that can go wrong when using the Ledger Nano X. When you turn on the device, the buttons are used to traverse left and right through menus, and hitting both at the same time confirms your choices.
Pros
Take full control of your cryptocurrency and retain your secret keys private.
Protect over 1,800 coins as well as tokens.
The Ledger Live app allows you to manage and develop your cryptocurrency.
Bluetooth connectivity with your iOS or Android smartphone is required.
Increase your holdings by staking freely in Ledger Live.
Cons
Some traders thinks that it's expensive.
Navigation might be made easier.
---
Trust Wallet is a bitcoin wallet for mobile devices. It is mostly concerned with Ether as well as other Ethereum-based coins. It is built in such a way that its native code may be both closed and open sources. For Android, the wallet is closed source (Java) while for iOS, it is open source (Swift). Trust was designed to make it easier to send, receive, and keep Ethereum tokens on the ETH blockchain.
The wallet was released in November of 2017. It accepts 14 tokens and allows users to save their private keys on the devices. This wallet collaborates with other businesses to improve some of its capabilities.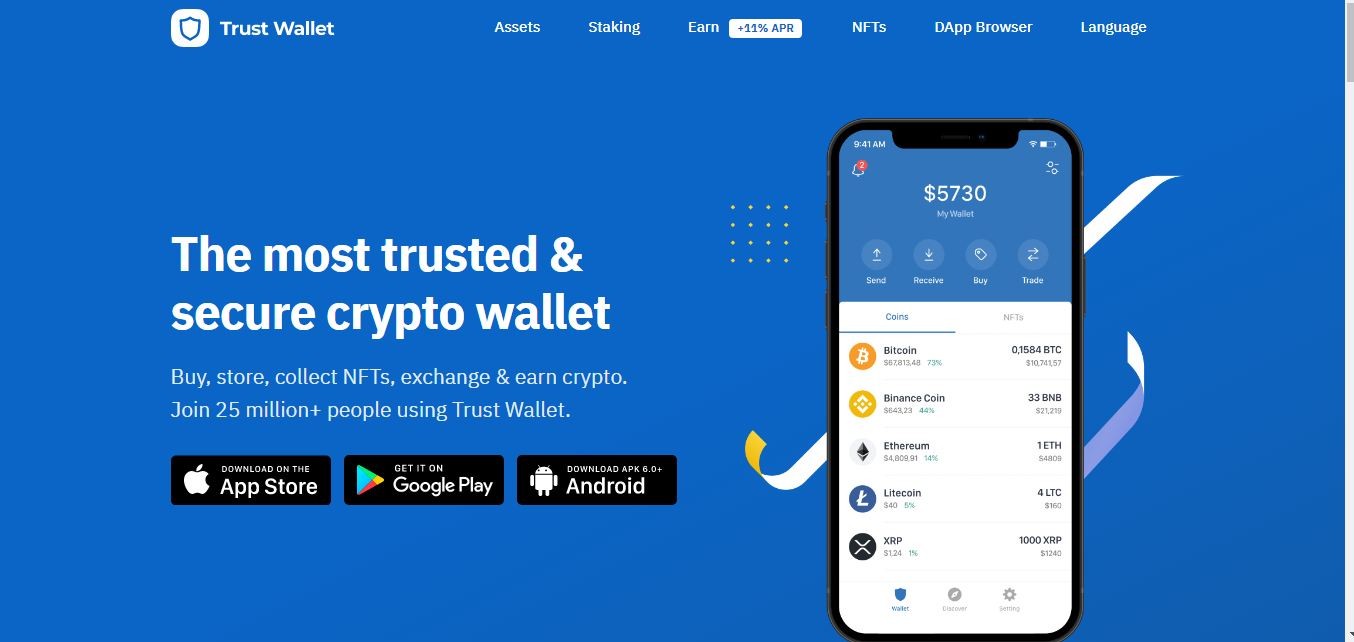 Because of the way the trust wallet works, you have various alternatives for trading or exchanging your tokens. You may either submit your tokens to an exchange or use services like Changelly or ShapeShift. Another simple alternative is to use the DApp browser, which allows you to access your tokens directly from your wallet. Trust Wallet has made the audacious claim that it does not charge any fees for its operations.
The wallet boasts an easy-to-use design. It is designed in such a way that you may receive both airdrops, ICO tokens, and Ethereum from a single address. This is a high-quality wallet that is both safe and secure. The wallet does not save any user information. The wallet does not employ any KYC requirements, thus you will not be required to provide any personal information while using the software.
Pros
Downloading is simple and free.
The software is compatible with 53 blockchains and over a million assets.
Invests in and generates profits on a variety of digital assets.
All private keys are held by the user; no private keys are saved on the wallet's servers.
A fully working Web3 browser that provides access to decentralised apps (DApps).
NFTs can be kept in the wallet.
Both Android and iOS platforms are supported.
Cons
There is no desktop assistance available.
There is no documentation for the various cryptos provided in the application.
---
Exodus provides free desktop and mobile bitcoin wallet downloads, as well as hardware wallet compatibility with the Trezor One and Trezor Model T. Exodus Wallet is well by many in the crypto world due to its built-in exchange and becoming one of the only software wallets that supports hardware wallets.
Exodus offers over 150 currencies over seven different blockchains. Exodus' internal exchange allows users to purchase and sell currencies as well as swap them. Furthermore, Exodus' collaboration with FTX enables users to view the exchange straight from the Exodus app, easing asset transfers between the two.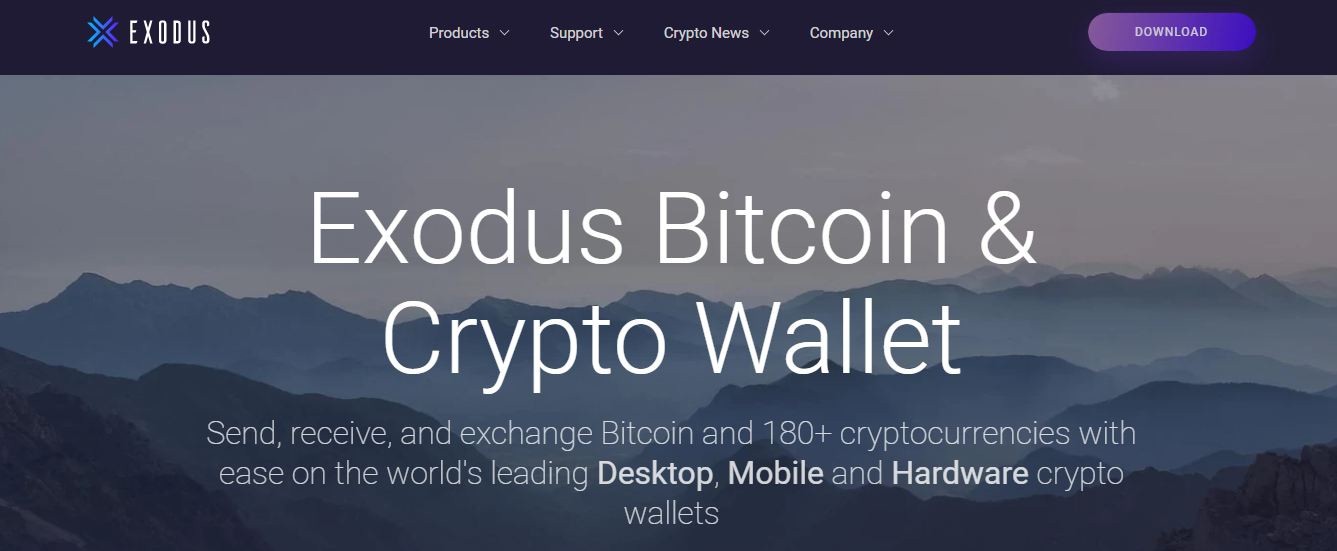 Exodus has no access to any of your assets or private keys. Because the wallet is non-custodial, all storage and encryption takes occur on the user's hard disc rather than on the Exodus network. After downloading the platform, users log in using their passwords. Users will be required to provide a 12-word recovery phrase if they need to regain their account.
Pros
Portfolio and trade functions are pre-installed.
Supports a Variety of Cryptocurrencies
An Easy-to-Use and Intuitive Interface
Fees that are automatically adjusted
Integration with ShapeShift
Cons
Less cryptocurrencies are supported by the mobile app.
There is no option to purchase cryptocurrencies using the app.
In-wallet cryptocurrency to fiat transfers are not supported.
---
What to look in a Fantom Wallet?
There are numerous crucial aspects that comprise a decent Fantom wallet, so look for the below when evaluating your options:
Manage private keys
A wallet that allows you to own and manage your keys. This is effectively the key to gaining access to your Fantom token, therefore safety is non-negotiable here.
Developers Group
For upkeep, there is an active developer community. Look for a vibrant development community with a bright future.
Backup and security functions
Security is the main thing that you should keep in your mind. Before selecting any Fantom wallet you should research about that Backup keys and pin codes are seeded.
Usability
Whichever wallet you choose for your crypto should be easy and simple to use. Design and Elegant user interface for quick and easy usage.
Positive feedback
Seek out unbiased web evaluations of any wallet you're thinking about purchasing to learn about its advantages and disadvantages. Would other users suggest this wallet to someone seeking for a place to save their FTM?
---
Conclusion
This article has examined the finest Fantom crypto wallets on the market right now and discussed how to select a suitable provider depending on your skill set.
Security is clearly a major concern, thus it's critical to select a wallet that is widely used and has a plethora of security mechanisms in place. It's also critical to select a wallet that functions well with some biggest exchanges so that you may conduct transactions in the open market as rapidly as possible.