Bitcoin ETF Dates and Why They Don't Really Matter
I'm sure everybody is as sick of hearing about bitcoin ETF dates as I am and the U.S. Securities and Exchange Commission (SEC) is not helping by consistently rejecting or delaying approval.
However, that is not necessarily a bad thing and I'll get to why in a minute but first let's look at a timeline of ETF dates regarding two significant bitcoin exchange-traded fund (ETF) applications that are awaiting approval.
Upcoming bitcoin ETF dates
The Proshares ETF has been around since late last year and has been delayed three times, so it's a good basis on which to compare the more recent and heavily anticipated VanEck/SolidX bitcoin ETF which recently got delayed for the first time.
Initial deadlines for a decision (approval, rejection or delay) are 45 days and 90 days but as we'll see the only date that really matters is the final deadline. This is because any decision before the final deadline that isn't a delay will likely be a rejection. In the event that a bitcoin ETF does get approved, it will almost certainly only be on the final deadline date.
ProShares ETF
Federal Register publication date: December 26, 2017
First decision to delay was on January 30, 2018, after 35 days.
Second decision to delay was March 23 after 87 days.
Third decision to delay was June 15 after 171 days.
Final deadline is in a few weeks on August 23, 2018.
VanEck/SolidX ETF
Federal Register publication date: July 2
First decision to delay was on Monday 6 after 35 days.
Second decision will be on September 30 or likely a few days earlier.
Final deadline is only next year on February 27, 2019.
There are also several other smaller bitcoin ETF's that have been delayed and have final deadlines coming up in September, including the GraniteShares ETF on September 15 and Direxion on September 21. Realistically I wouldn't bet on any of them getting approval this year which, as I mentioned earlier, is not necessarily a bad thing.
Is Bitcoin ready for an ETF?
The global financial markets are ruthless and if you think the crypto market is experiencing price manipulation now imagine what it would be like on a global stage. The reason the SEC is not approving an ETF now is that it requires a financial institute to prove it can hold sufficient custody of an asset before it can safely trade it. A number of institutes, including Coinbase and Goldman Sachs, are looking into this but as of yet, nothing is complete.
To enter bitcoin into the international financial market before its ready would be like throwing a puppy into a vicious dogfight. The recent OKEx disaster that saw a single trader liquidate a USD 460 million unfilled BTC long position does not reflect well on the maturity of the crypto community as a whole (although, conversely, it is also a potential reason bitcoin needs an ETF). If bitcoin can't prove resilient to manipulation and new investors to the market face excessive risk it'll simply delay any future institutional investment into cryptocurrency.
We already saw what happened when bitcoin got a CME Futures listing on December 17 last year – a massive pump followed by a massive dump which was inflated by opportunists using the futures contracts to short the market. These were not people interested in the future of cryptocurrency or disruptive financial technology – they were simply abusing bitcoin as a get-rich-quick scheme.
It's possible a similar situation might occur following a bitcoin ETF approval. If you're a savvy day trader and you either get out before transaction times skyrocket or you short the drop, then maybe you'll make some profit. Long-term investors, however, won't be hugely affected as the price will likely correct (as it is doing now following the CME futures) and continue on the same trajectory it's been on for years.
Looking (far) ahead
For an interesting insight into where bitcoin is going and what to expect over the next year or more, check out this excellent and well analyzed Twitter thread by @TheCryptoFam that includes comments and graphs by experts with decades of experience in market price predictions.
Below is just one graph from the Twitter feed showing a sobering outlook for the next year and a half. As you can see, it does use ETF dates to predict an upcoming rally from institutional investment similar to last December's one – but not before well into next year.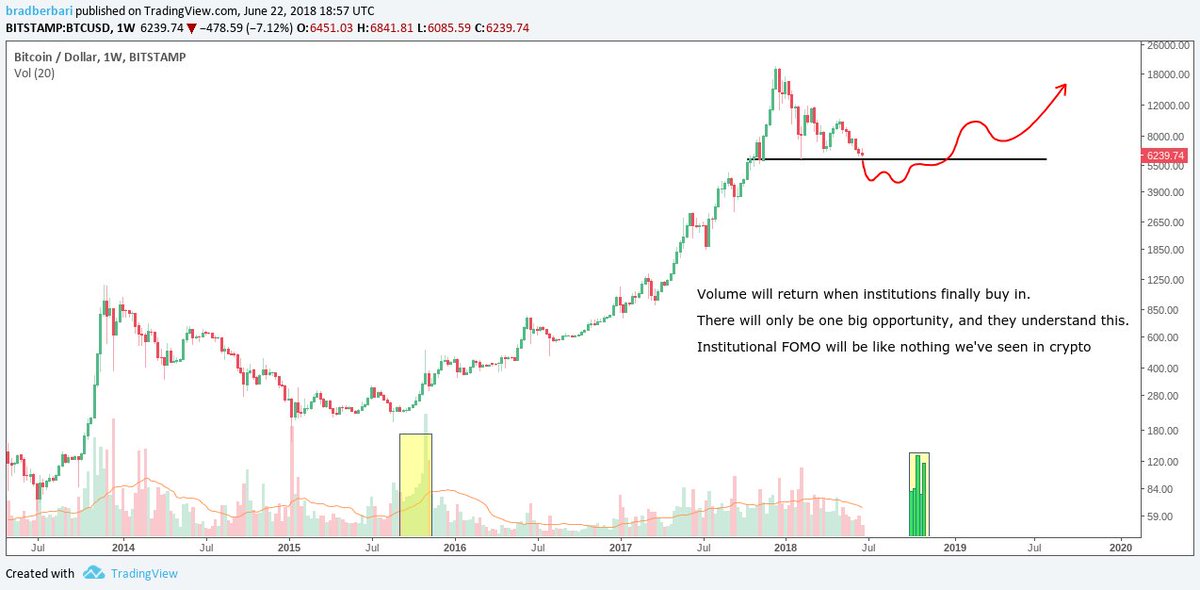 Mark Hartley is an IT specialist, freelance writer, keen traveler, and blockchain enthusiast. He has worked on the trading floors of the world's biggest interdealer broker in London and helped integrate crypto-services into IT trading systems. When he's not searching for the world's most beautiful beach, he's nose deep in any crypto and blockchain related news.